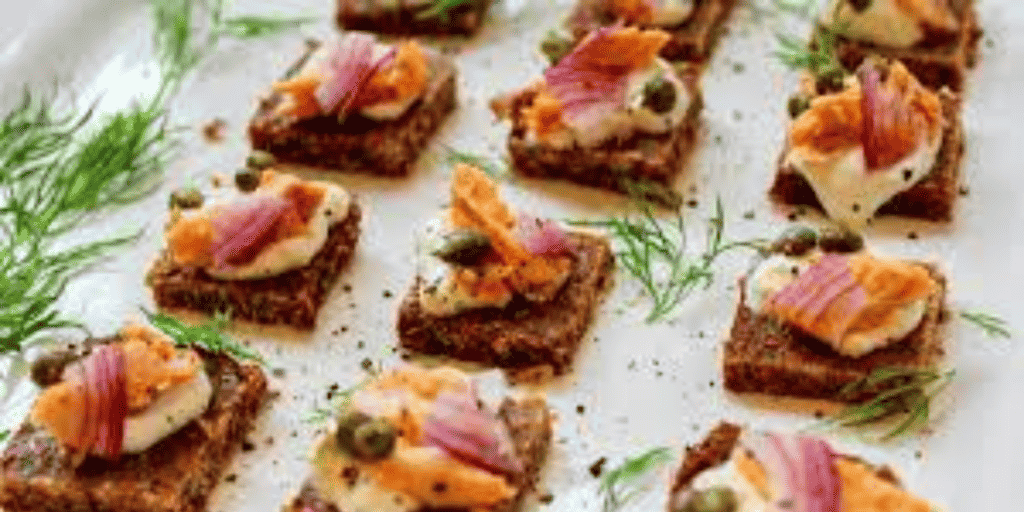 Ingredients:
1 baguette, thinly sliced
8 ounces cream cheese, softened
8 ounces smoked salmon
2 tablespoons capers, drained
1/4 cup red onion, finely diced
2 tablespoons fresh dill, chives, or parsley chopped
Zest of 1 lemon
Freshly ground black pepper, to taste
Instructions:
1. Prepare the Baguette Slices:
Preheat the oven to 350°F (175°C). Place the baguette slices on a baking sheet and toast them in the preheated oven for 5-7 minutes or until they are lightly golden and crispy. Remove and let them cool.
2. Whip the Cream Cheese:
In a bowl, whip the softened cream cheese until smooth and fluffy.
3. Assemble the Canapés:
Spread a generous layer of whipped cream cheese onto each toasted baguette slice.
4. Add Smoked Salmon:
Cut the smoked salmon into bite-sized pieces and place a piece on top of each cream cheese-covered baguette slice.

5. Garnish:
Sprinkle finely diced red onion, capers, chopped fresh herbs, and lemon zest over the smoked salmon.
6. Season:
Finish with a touch of freshly ground black pepper for added depth.
7. Serve:
Arrange the smoked salmon canapés on a serving platter.
8. Optional:
Garnish with additional dill sprigs for a decorative touch.
Serve immediately and enjoy your elegant and delicious Smoked Salmon Canapés!