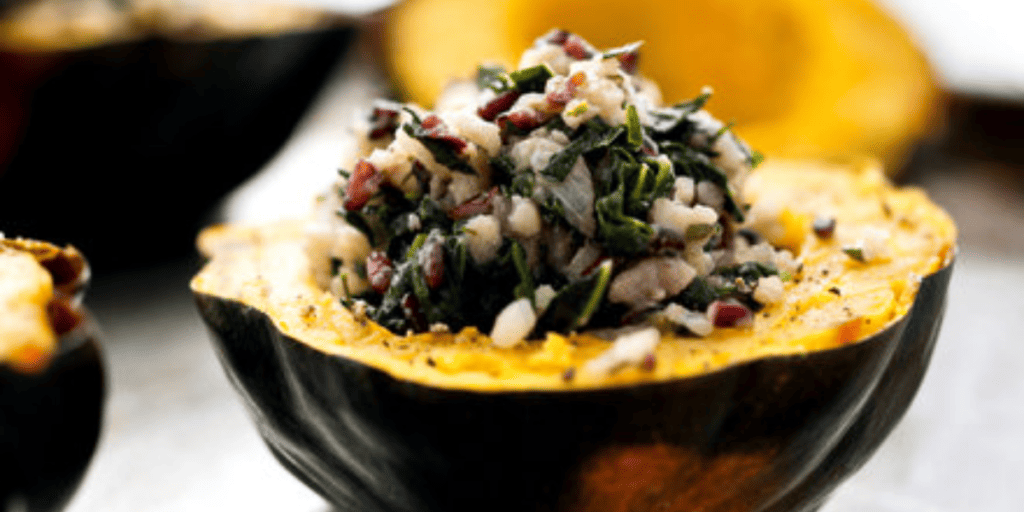 Ingredients:
4 acorn squashes, halved and seeds removed
1 cup wild rice blend
2 1/2 cups vegetable broth or water
2 tablespoons olive oil
1 onion, finely chopped
3 cloves garlic, minced
8 ounces cremini or button mushrooms, finely chopped
1 teaspoon dried thyme
1 teaspoon dried sage
Salt and pepper, to taste
1/2 cup dried cranberries (optional, for sweetness)
1/2 cup chopped pecans or walnuts (optional, for crunch)
Fresh parsley, for garnish
Instructions:
1. Preheat the Oven:
Preheat your oven to 375°F (190°C).
2. Prepare the Squash:
Cut the acorn squashes in half and scoop out the seeds. Place the squash halves, cut side down, on a baking sheet lined with parchment paper. Roast in the preheated oven for about 30-40 minutes or until the squash is fork-tender.
3. Cook Wild Rice:
Rinse the wild rice under cold water. In a medium saucepan, combine the wild rice and vegetable broth or water. Bring to a boil, then reduce the heat to low, cover, and simmer for 45-55 minutes or until the rice is cooked and water is absorbed. Remove from heat and let it sit, covered, for 5-10 minutes. Fluff the rice with a fork.
4. Sauté Mushrooms and Aromatics:
In a large skillet, heat olive oil over medium heat. Add chopped onion and garlic, sautéing until softened. Add chopped mushrooms, dried thyme, dried sage, salt, and pepper. Cook until the mushrooms release their moisture and become golden brown.
5. Combine Rice and Mushroom Mixture:
Combine the cooked wild rice with the mushroom mixture in the skillet. Mix well. If desired, add dried cranberries for sweetness and chopped nuts for crunch. Adjust seasoning to taste.
6. Stuff the Squash:
Once the squash halves are roasted and tender, turn them cut side up. Fill each squash half with the mushroom and wild rice mixture, pressing it down gently.
7. Bake Stuffed Squash:
Return the stuffed squashes to the oven and bake for an additional 15-20 minutes, allowing the flavors to meld and the top to become slightly crispy.
8. Garnish and Serve:
Remove the stuffed squashes from the oven. Garnish with fresh parsley for a burst of color and freshness. Serve warm.
9. Enjoy:
Enjoy your Mushroom and Wild Rice Stuffed Squash as a delightful and wholesome main course or side dish.
This recipe combines the earthy flavors of mushrooms, the nuttiness of wild rice, and the natural sweetness of acorn squash for a delicious and satisfying vegetarian dish.